Fish Available
Rainbow Trout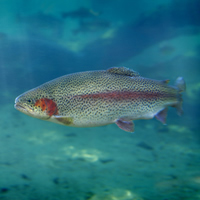 (Onchorhynchus mykiss formally known as Salmo gairdneri)
Introduced into this country from North America in the latter part of the 19th century. They do not tend to breed naturally in most river systems and restocking is basically restricted to 'still or enclosed' waters. Most sizes available year round.
Blue Trout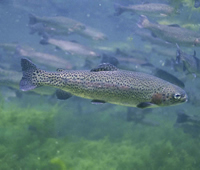 (Onchorhynchus mykiss)
Another beautiful variation similar to the golden trout. A hard fighting fish and without question, the anglers choice. Again, as one of the few breeders of this type of fish, availability is limited, but with proactive ordering, good quality is available.
Golden Trout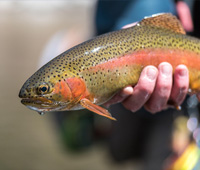 (Oncorhynchus aguabonita)
Originally the golden trout was described as a subspecies of the salmon species, with a name Salmo mykiss agua-bonita,[3] and it is still often considered a subspecies (now called Oncorhynchus mykiss aguabonita) along with several other rainbow trout subspecies commonly known as redband trout.
The golden trout has golden flanks with red, horizontal bands along the lateral lines on each side and about 10 dark, vertical, oval marks (called "parr marks") on each side. Dorsal, lateral and anal fins have white leading edges. In their native habitat, adults range from 6 to 12 inches (15 to 30 cm) long. Fish over 12 inches (30 cm) are considered large. Golden trout that have been transplanted to lakes have been recorded up to 11 pounds (5.0 kg).
Consequently, these fish are extremely rare and we are a unique supplier of this stunning looking fish.

POA.
Brown Trout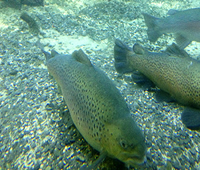 (Salmo trutta)
The native trout species found in most rivers and streams throughout the British Isles. Most sizes available year round; from eggs through to large specimen fish.
Brook Trout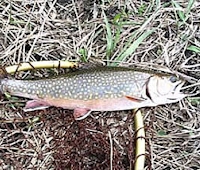 (Salvelinus fontinalis)
A species of fish in the salmon family of order Salmoniformes. Though commonly called a trout, the brook trout is actually a char. It is an attractive fish with white leading edges to its fins and yellow spots on its flanks. The hen fish develops a bright orange belly as it matures.
Tiger Trout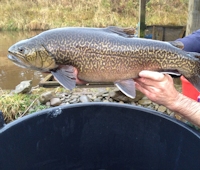 (Salmo trutta X Salvelinus fontinalis)
A lovely looking fish that anglers rave over when they catch one. We are one of the few fisheries who stock these interesting fish. It is a sterile, intergeneric hybrid of the brown trout and brook trout and is a rare phenomenon in the wild, with the brook trout having 84 chromosomes and the brown trout 80. Records show instances as far back as 1944.